From the The New York Times September 13, 1996
It Destroys, It Brings Chaos, and It Just Won't Die. Demolition Derby Survives on Long Island and So Do Participants, Despite Themselves
By Douglas Martin
RIVERHEAD, N.Y.--Call it sport, spectacle or travesty, but demolition derby has indisputably claimed an ear-splitting, bargain-basement cranny of the American imagination since the first one crashed into existence at a Long Island track almost 40 years ago.
The agenda was--and is--breathtakingly basic: a mess of very big, very old cars slam into one another until just one, the winner, is still running.
So it has been since 1958, when Larry Mendelsohn, a 28-year-old stock car driver, grasped the highly unflattering truth that most race fans and more than a few drivers, perfunctory denials aside, love the crashes. Why not give them an event with nothing else? Not surprisingly, demolition derbies swept from their birthplace, Islip Speedway, to Culver Stadium on the outskirts of Los Angeles and virtually every dirt track and county fair between.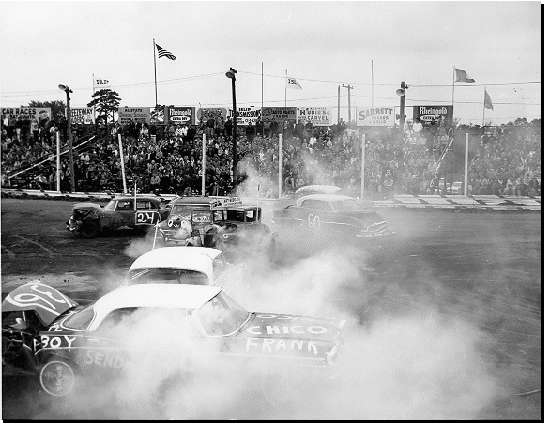 photo: Ken Spooner "Long Ride on a Short Track"
Islip Speedway October 1964
ABC's Wide World Of Sports - World Championship
-
Some idiot from Ronkonkoma enters a Model A.
People tried to talk him out of it and even offered to buy it.
The Model A (center) lasted 3 minutes.
-
Harry Hebenstreit and Jim Malone are distroying their Cadilac's & Chrysler's

At first, the sport's lurch to working-class America's heart had elements of glory: at least one early event was held at the Polo Grounds in Manhattan, and ABC's "Wide World of Sports" showed "demos," as derbies are known, almost weekly. But that stopped in the mid-1970s, as sports shows went upscale.
In later years, it has become harder and harder to find the tanklike old clunkers the sport requires. Many tracks, including Islip's, have become shopping malls. Most recently, demo fans have resented drivers' colluding to attack others in order to split prize money.
"It's in pretty sad shape, the sport is," said Leonard Pease, president of the National Demolition Derby Association, a 12-man organization based in Tower Hill, Ill., which was founded to bring standards to a sport with exactly none. "In 10 or 12 years, it could be a thing of the past."
Fat chance, even Pease immediately concedes. The sport is the surest moneymaker for county fairs and has managed, at least in the view of participants, to remain a cut above events to which it might be compared: tractor pulls, animal dressing contests, pig racing.
"The popularity of demolition derbies will never ever end," declared Jim Cromarty, owner of the Riverhead track. "People just love to watch the smashing of cars."
Bob O'Rourke, Riverhead's racing director, recalled events at other, extinct Long Island car tracks--a football demo in which four cars competed to shove a VW bug across a goal line; a "blackout demo" staged in the dark, whose winner was the last car with a headlight shining, and a fight to the death by New York City taxicabs. Elsewhere, variations have included farm combines and motorcycles.
Despite the threat of rain, 50 drivers and 2,000 spectators gathered on Saturday evening at Riverhead's quarter-mile track in eastern Long Island. The world championship marks the end of the demo season and, as such, carries the quality of ritual.
The solidly blue-collar crowd was sincerely involved: despite the nearness to the hip Hamptons, there was none of the self-conscious behavior Manhattanites bring to pool halls or bowling alleys in group expeditions.
There seemed an even greater purity to the motives of the drivers, many of whom long to drive the real stock cars, with finely tuned engines and roll bars, whose circular races precede the demo. "At least I'm in it, somehow," said Walkowiak, who in the next breath called his sport "the bowels of car racing."
But stock car drivers, some of whom spend $30,000 or more on the cars they run at Riverhead, insist they do not regard their demo counterparts, who generally spend less than $100, as clowns. "They get the glory of saying, 'I raced,' " said Danny Avondet, 39, a carpenter from Ronkonkoma, N.Y., who makes stock cars his hobby.
Demo cars come from junkyards, salvage auctions, people's backyards and country ditches. Any American hardtop automobile or station wagon is allowed, except for ones deemed exceedingly heavy, like trucks, hearses, and limousines. Drivers need just one qualification: a driver's license.
The rust buckets, mostly ponderous '70s models, are prepared by removing the grille, headlights, side-view mirrors and all windows except the windshield. The gas tank is replaced with a five-gallon container placed where the back seat was. The battery is moved to the front seat. The doors and hood are welded or chained shut.
The rules demand every car hit another at least every 60 seconds, and everybody seemed more than compliant. A potbellied man kept repeating, "Holy cow!" In this first heat, Johnny Dangerously whirled about in an exuberant march of destruction. Finally, his was the only car running.