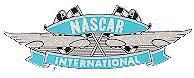 NASCAR Grand National events held at the Islip Speedway
| | | | | | |
| --- | --- | --- | --- | --- | --- |
| Date | Event | Winner | Career Win | Owner | Car |
| July 15 1964 | 39 of 62 | Billy Wade | 3 of 4 | Bud Moore | Mercury |
| July 14 1965 | 32 of 55 | Marvin Panch | 16 of 17 | Wood Brothers | Ford |
| July 16 1966 | 33 of 49 | Bobby Allison | 2 of 84 | JD Braken | Chevrolet |
| July 15 1967 | 32 of 49 | Richard Petty | 63 of 200 | Petty Engineering | Plymouth |
| July 07 1968 | 26 of 49 | Bobby Allison | 11 of 84 | JD Braken | Chevrolet |
| July 15 1971 | 30 of 48 | Richard Petty | 131 of 200 | Petty Engineering | Plymouth |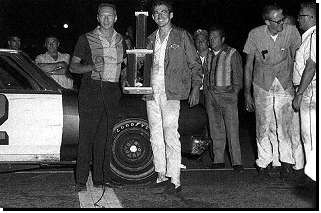 photo: Ken Spooner "Long Ride on a Short Track"
Larry Mendelsohn and Bobby Allison
1966's 300 lap Big Event Winner was the unknown Bobby Allison in a non-factory Chevrolet owned by JD Braken. Ford's boycott that year because rules allowed Chrysler's 426 c.i. HEMI on intermediate and full size cars on short tracks . Chevrolet stopped factory sponsorship in 1957. Allison's win was one of Chevrolet's few in the muscle car Sixties.

Marvin Panch's 1965 Wood Brothers Ford
At 2/10th of a Mile, Islip Speedway is Shortest Track ever used in NASCAR's Grand National / Winston Cup 50 Year History.
Billy Wade was NASCAR Rookie of the Year in 1963. He won only 4 races in his career. His 4 consecutive victories came in 9 days from July 10 to July 19, 1964. Billy Wade died on January 7, 1965 while testing tires at the Daytona Speedway.
Richard Petty's 1967 season was and will be the most dominant season ever run. It is the season that earned him the title "The King." 27 wins in 49 races.
Richard Petty's 1971 victory marked the last NASCAR Grand National event to be held at the Islip Speedway.
In 1972 NASCAR entered the modern era with 31 races. Winston became the major sponsor and demanded that all races under 250 miles be dropped. Islip lost its draw.